Arr! Ahoy there me hearties! It be International Talk Like A Pirate Day! And for the Bento Bloggers & Buccaneers, that means lunch like a pirate too! Avast! Ye've discovered the mother of all pirate lunch link-up posts - this year's link party plus all our previous pirate hops in one place, a veritable treasure trove of bento post booty ;) An' if ye've blogged some pirate grub ye're welcome to set sail with us! Yo-ho-ho, away we go!
If ye wish t' link t' this party, grab this wheel:
In 2013 we had so many bento buccaneers we needed to hop aboard two separate ships for our pirate lunch adventures! Board each one 'n hop through at yer leisure, or plunder the linky, as you wish :)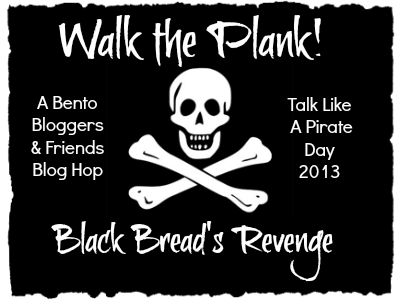 Did ye catch the year 2012's Talk Like A Pirate Day Hop?
Arrr, it were a good 'un! A treasure hunt!